LITTLE MISS OLIVIA'S SWEATER DRESS AND HAT
It is interesting where ideas come from for my new knit designs. A lot of times, when I am knitting, I am already onto the next design. Ideas on my current knit may give lots of thought for another item. When I was knitting Little Abigail's Sweater, I had a thought that I would love a similar style in a dress. However, I would design it slightly differently. Hence, the design for Little Olivia's Sweater Dress was born. This sweater pattern has instructions for short or long sleeves. Of course, I wanted to also have a hat to go with. This was the easy part. The Olivia Slouch Hat matches the sweater dress. I also designed leg warmers. I am currently in the process of writing up the pattern for them, and they will be available with this set soon.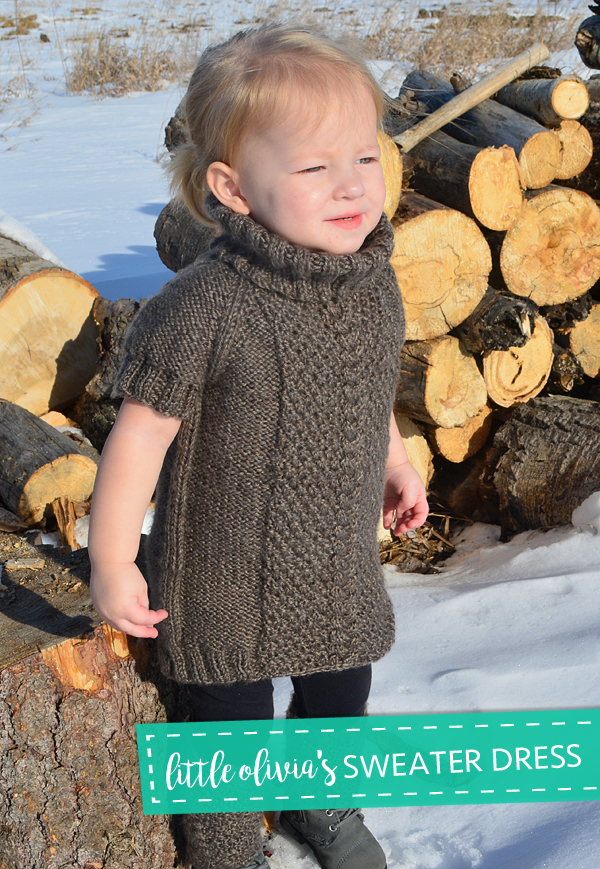 My one year old daughter was in need of a dress. This was a perfect design for her! I love wearing this set on her. (If I can get her to keep the hat on.) It is definitely a set that is eye catching and super adorable! We get comments every time she wears it. It is also very comfortable and versatile for a child to wear. Who doesn't love that?
As usual, this dress is a seamless, top down knit! There will be no seaming to do at the end! I really, really love that! There is a simple cable surrounded by the moss stitch that runs down the front of the dress. Moss stitch has become one of my favourite stitches! The hat is knit in the round, starting from the bottom. It is also completely seamless! It features the same cable and moss stitch on the sides.
This dress comes in 9 sizes from 3 mths – 12 years. The hat comes in 9 sizes from 3 mths – Adult large. I still am undecided if I will design an adult dress in the same style. Any thoughts?
Both of these patterns were designed with Lion Brand Heartland yarn. However, any soft worsted weight (aran) yarn will work. Many of my testers used many different yarns to knit this set. You can check out the projects on my ravelry page.
For more details on the pattern, view this design on my Ravelry page.
So, relax, get your circular needles ready and knit this adorable set for that little girl in your life! Enjoy, and happy knitting!