Little Sunshine Poncho Baby Gift
See Little Sunshine Poncho Pattern on Ravelry
Have you tried a raglan knit sweater yet that is completely seamless? This sweater is knit from the top down, raglan style and there is no seaming required! I must say, I really, really love this style. It has become my favourite way to knit sweaters. It feels that they fly off the needles. I seriously have finished every raglan style sweater I have made. That is amazing! I still have a seamed sweater sitting in my knitting bag. I don't think I will ever get around to finishing it!
This little poncho sweater was designed with cables in mind. I love the look of cables and I also love knitting them. The more I knit cables, the more I fall in love with them. This sweater has cables in the front, back, on the sleeves and also down the sides of the poncho. What isn't there to love about that? The cables in this poncho are very basic cables. C4F, C4B, C6F, C6B, C8F and C8B. If you are new to cables, these one will be very easy to tackle!
My sister had a baby girl last January. As many knitters know, we all love to give something we have knit as a baby gift. I can't do this for all of my friends and family, but there are times when I actually can. I wanted to knit this little girl a sweater. It was fun to design this poncho. It is completely unique. You can't go and buy this sweater in the store. I also designed the hat to go with it. This hat still needs to be tested. The pattern will come out hopefully soon! I have a little girl very close in age to my little niece. I really was tempted to keep the poncho for her, but I didn't have time to make another one. 🙂 I must say that my niece looks absolutely darling in her new poncho and hat!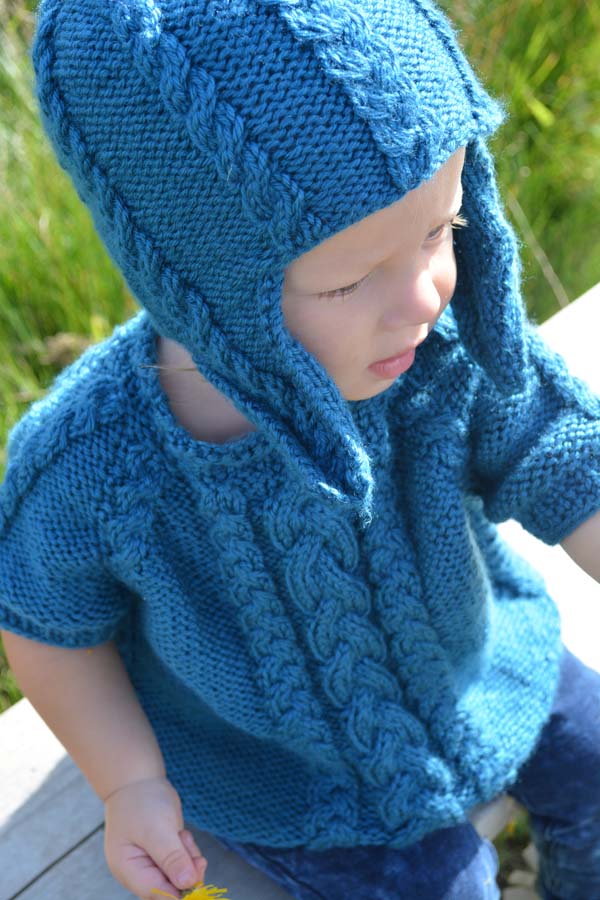 This poncho was knit with red heart soft yarn. I love the feel of this yarn. It is super soft. It wears well on kids. There are so many colours to choose from. It is amazing how different the poncho looks in other colours. Many of my testers choose different colours and they turned out amazing. You can check out their projects on my Ravelry page.
This poncho is oversized. It was made to fit loose. A 3" – 4" positive ease was built into the pattern. So, if you are wondering why the sizes look a little bit on paper, it is because of this ease I built into the pattern.
There are 9 sizes included in this pattern from 3 mths – 10 yrs. You can knit it for many different sizes.
So, grab your circular needles and yarn and start knitting a this seamless poncho. Happy cabling and knitting!