KnotEnufKnitting Top 10 Patterns of 2017
2017 is coming to an end. With the close of a year, one tends to reflect on the events of the past year. To pause and measure what went well and what one can improve on. Time to focus on the new year and new resolutions! We have summed up our year here at KnotEnufKnitting with a list of our Top 10 patterns of 2017! Some of them are brand new this year, and others are tried and true favourites! Check out the list below, have you knit any of these?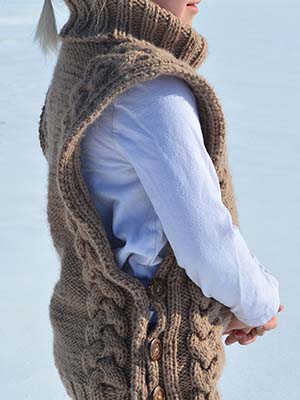 Whispers of Autumn Pullover is a well loved sweater pattern. The turtle neck is great for warmth and adds a cute touch. Our favourite part about this pullover knitting pattern is the two fat cables that run down each side. Most of our knits are knit in the round, but this one is knit flat and the sides are attached together with buttons. Don't you love the wooden buttons we chose for this one?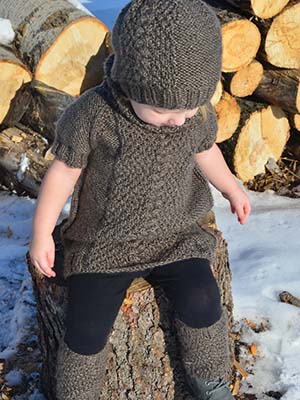 Gorgeous pattern – while not a mindless knit, it is not difficult. Works up beautifully and having little finish work because it is knit in the round is wonderful. Tina, Tennessee, USA
Little Miss Olivia's Set is a new one for 2017 as well. This pattern set includes Little Olivia's Sweater Dress, The Olivia Hat, and Little Olivia's Leg Warmers. Combined these three make a charming set for your little girl! All three pieces of this knit sweater, hat and leg warmer set include a cable surrounded by the moss stitch. The sweater, hat and leg warmers are all seamless as well. Little Olivia's Sweater Dress can be knit with short or long sleeves.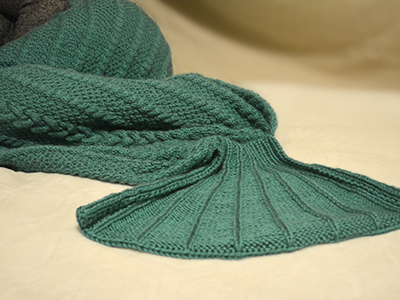 Just finished the 3rd little mermaid tail.Thanks for the great pattern, it's easy to follow, and an enjoyable knit.
The Adult Mermaid Tail is one of our classic knits. We also have children's mermaid tail knitting patterns – Ariel, and My Little Mermaid Tail. Knit in the round, this one is completely seamless. It's a fun knit, with a pretty cable running down the centre. Lara's girls love their mermaid tail for curling up with a good book! It's bound to be a favourite, after you knit one, someone will be asking for another!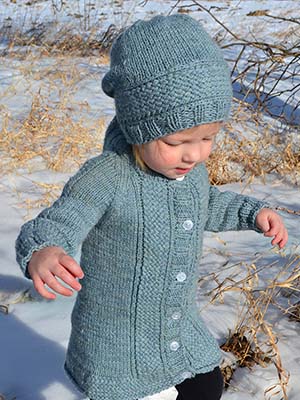 I adore the basket weave look! This hat will get loads of wearing at my son's baseball games this wet, cold spring.
The much anticipated Little Miss Madyn Set was launched in August. The wicker stitch shines in Madyn's Cardigan pattern, running down the sides on the front, and in a strip down the back and each arm. Little Madyn's Hat also features the wicker stitch in the band.  Both are of course, seamless. A beautiful knit, the cardigan comes in sizes from NB – kid's 10, and the hat is available in sizes 3 months – Adult Large. Watch for the Adult Madyn Cardigan knitting pattern coming next year!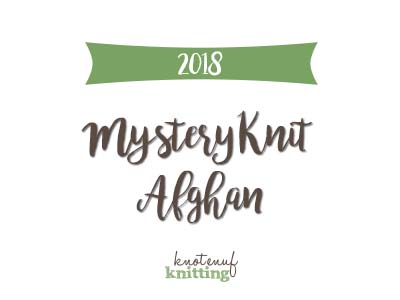 So this one surprised us, but didn't surprise us. Our 2017 Mystery Knit Afghan was so popular, we knew  people would be ready and waiting to join the MKAL for 2018 as well. We introduced the 2018 Mystery knit on December 15, and it already shot up to #6 on our most popular patterns of the year! And, the pattern isn't even out til January 15. If you haven't joined the fun yet, you can check out the details, yarn and needle recommendations in our blog article.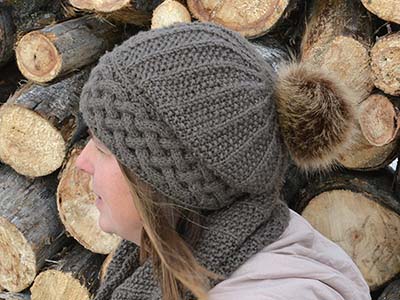 Maybe our most well known hat, Song of Peace, is a tried and true favourite. We love this hat from the thick cable band, to the perfect amount of slouch. We reshot this one with a pom pom this year, and have been loving the looks of it. In fact, Lara gifted this one to her sister and wanted it back when we added that pom pom! Comment below what colour you think we should knit it in next.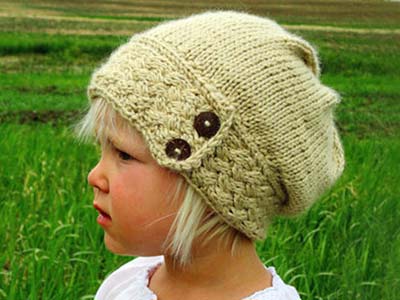 I love this pattern I knitted it for my grandaughter she looked so cute so thank you.
Little Miss Ella's Hat is another classic. The cable band is knit first, and then stitches are picked up for the rest of that hat. We have gotten so much great feedback on this hat. It's a good one to add to the go-to pattern stash for gifts. Best part is it is sized from baby to adult, so you can make it for anyone!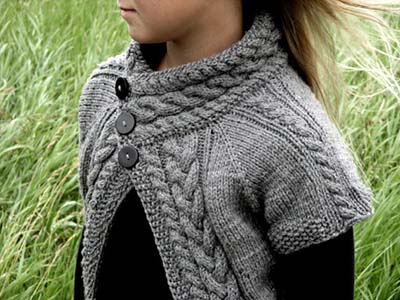 This is officially my favorite knitted project (and that's over 10 years of knitting!)
Our beautiful Joy Cardigan. This one has been well loved, and knit many times. Another sweater we have had heaps of feedback on. The cabled collar is a distinct and beautiful feature on this sweater, with cables running down the front, and the arms. It falls open in the front, somewhere between a poncho and a sweater.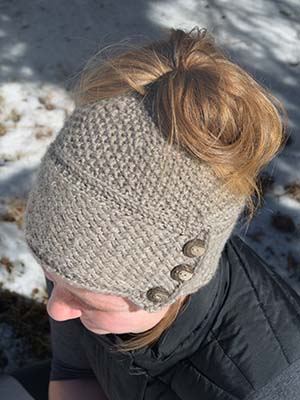 I'm a beginner and this was very well written so that I could figure it out as I went.
We were not surprised when the Ava Messy bun/Ponytail Hat came in at #2 of our most popular patterns of 2017. The messybun is a great fad this year, and what better way to dress it up than a hat! Our messy bun hat has a large wicker stitch band which is knit first, and then the stitches are picked up for the top.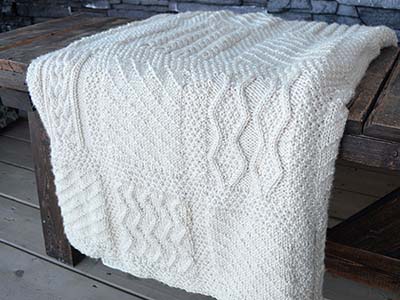 I just finished the 2017 afghan. My husband says its my best work. He think it's beautiful.
The Seamless Square Knit Afghan Knitting pattern was our Mystery Knit for 2017. When Lara saw a seamed square knit afghan, she thought 'I can do this, but seamless'. Thus, the Mystery Knit idea was born. So many of your jumped on board for our Mystery Knit this year, and we had so much fun knitting together. The 2017 MKAL is over, but you can get the pattern now for the whole blanket. The excitement has begun now for the 2018 MKAL as well. To be launched January 2018!
As 2017 draws to a close, we want to thank you all for the great support in our knitting endeavours!  We wish all of you a Happy and prosperous New Year 2018!  ~Lara and Varina